Adasee is a Persian dish that is very easy to make. Iranians eat Adasee for breakfast, lunch, dinner, and as snacks in between meals. It is a nutritious meal that will fill you and keep your waist line small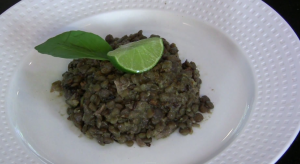 Take a look at the video, then make Adasee for yourself and family. Let me know how it turns out.



Remember to share this with your friends. My mission is to make Persian food mainstream. This wont happen without your help.
I personally read and respond to all comments. Leave a comment and let me know that you watched the video.
{ 1 comment }