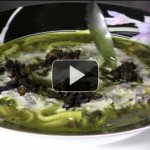 Three videos show you how to cook Ash Reshteh and Tahcheen like a pro. KShar prepares both Ash Reshteh and Tahcheen in one session. Both dishes are very popular Persian food items.
Lets get started… shall we?

Now lets put it all together…

And finally the presentation…

So what was your favorite part? Do you do this differently? Leave me a comment here and let me know. Are you ready to do this? Until next time…Keep it cooking!
There are currently comments.