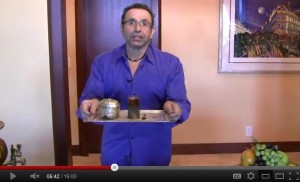 Persian Tea plays a very big role in Traditional Persian cooking. Almost all Iranians drink tea after their meal. Some drink tea a number of times throughout the 24 hrs. Learning the history behind Persian Tea and how it differs from other cultures is therefore significant.
In the video, I first teach you the very traditional way of making tea. Then, I will take you into the kitchen and show you a modern more efficient way of doing it. Please be sure to watch the video to the very end.

If you like to learn more about Traditional Persian cooking, be sure to check out KShar's Sofreh – A Modern Guide to Traditional Persian Cooking. I look forward to reading your comments and questions. Please share this video with your friends and family.
There are currently comments.